We are the UK's highest rated adventure boat tour company. Our skippers are your fast and fun guides to the natural history of Anglesey. Come with us for an unbeatable adventure.
We cater for individuals or groups of any age from 4 years old wanting a 40 minute RibRide, to those more adventurous chartering a rib for the day to go around Anglesey or to chill out on a secluded beach. Prices start at £22
Our Adventure boats operate year-round from our base at Menai Bridge where we offer full facilities and benefit from having the fabulous Dylans Restaurant on site. Between April and August we operate pop-up tours from venues around the island to find volumes of wildlife unseen anywhere else in North Wales
RibRides require no skill, just the ability to make one largish step down into the boat, see our FAQ's. Outside of extreme weather and the odd splash our intention is for you not to get wet. We provide the lifejackets, all you need are soft soled shoes or boots and clothing suitable for a 5-8 degree drop in temperature.

You can either book online or call us on our local rate number to discuss your RibRide. We take all major credit cards.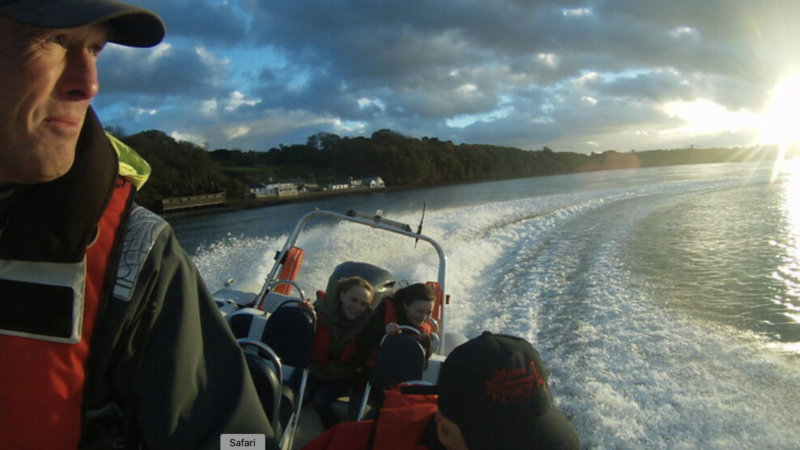 Swellies Adventure
Join us onboard our swift, stable RIB for a fun and exhilarating trip beneath two of Wales' most iconic bridges and through the world famous Swellies. Perfect for those looking for an action-packed adventure who may be short on time.
Our Skipper will be your fun guide as you depart St George's Pier and travel beneath Telford's magnificent Menai suspension bridge and into the Swellies. As the arches soar above you, imagine yourself in times gone by, as crew on a tall ship, navigating the Swellies with its strong currents, tidal flows and whirlpools, with only sails and oars to keep you on course.
The tide flows in and out from both ends of the Menai Strait and it is in the Swellies, with its unique topography, where these tides are visibly at their most dramatic. As your Skipper safely navigates you through this amazing stretch of water you will discover not everybody has been quite so successful.
Along the way, keep your eyes peeled for a variety of aquatic birds, including oyster catchers, curlews and the majestic heron and discover the fascinating history of the house on the island, before heading beneath Britannia Bridge and out the other side. Did you pick out the stone lions guarding the entrance to Britannia Bridge?
Then get ready for the exhilarating journey back, as your Skipper opens up the throttle a little more, enjoying some twists and turns before arriving back at St George's Pier.
A fantastic trip for all, that will leave you wanting more!
Menai Adventure
Come aboard and prepare to see some of the most spectacular sights along the south-east coastline of the Menai Strait, from Britannia Bridge to Beaumaris.
Departing from St George's Pier in Menai Bridge, your skipper will be your fun guide as you travel beneath the impressive Menai suspension bridge, into the world famous Swellies. Rest assured you will be in safe hands, as your Skipper skilfully navigates through the channel. The Swellies is rich in history, and you'll be kept entertained with tales of shipwrecks, fish traps and lions!
After reaching Britannia Bridge and saluting Nelson, you'll turn around for a second spin through this amazing stretch of water before travelling up the Menai Strait to Beaumaris. Along the way you'll pass the spectacular houses of Menai Bridge, known locally as Millionaire's Row, many of which have their own fascinating and sometimes chequered history.
Then it's a flyby of Garth Pier, the second longest in Wales and onto The Gazelle, a waterfront pub where people once gathered to wait for the ferry to take them from Anglesey to the mainland. The ferry is long gone, but the slipway remains. Onwards from The Gazelle discover the gruesome history of Gallows Point before the colourful and cheery houses of the seaside town of Beaumaris come into view. As the Menai Strait opens out enjoy stunning views of the Eryri mountain range (weather permitting!).
Beaumaris has a strong sailing tradition and if you are taking the tour on a race day, enjoy the spectacle of the racing from the water. If not, enjoy seeing the boats bobbing about on their moorings, with the world heritage listed Beaumaris Castle in the background.
Then it is time for the return trip back to St George's Pier. Hold on tight and enjoy some twists and turns as your Skipper opens the throttle and you finish your trip with a flourish!
Fun and excitement all around!
Occasionally the skipper may run this trip in reverse order.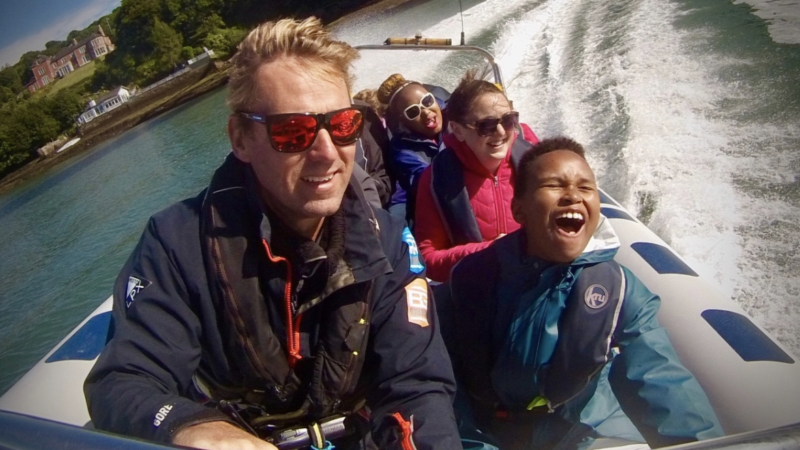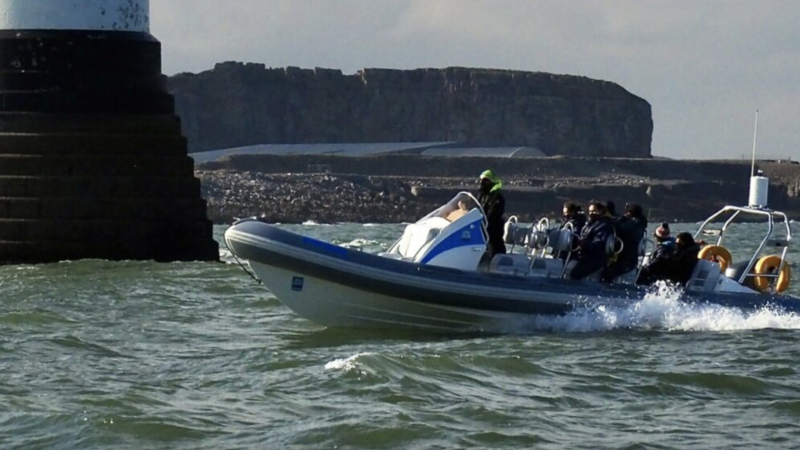 Puffin Adventure
No trip to Anglesey is complete without a tour to Puffin Island, known in Welsh as Ynys Seiriol and this RIB tour has it all. Excitement, open seas, spectacular wildlife, stunning views and the odd tale or two thrown in to keep you entertained.
Departing from St George's Pier in Menai Bridge, your skipper will take you on a fascinating RIB trip along the Anglesey coastline and seawards to Ynys Seiriol, located off Penmon Point at the south-eastern entrance to the Menai Strait.
Thanks to many years of conservation work by the RSPB and a variety of local groups, Ynys Seiriol is once again home to a colony of Atlantic Puffins, who visit the island each year between April and August to breed, before heading back out to sea where they spend the entire winter.
As well as the seasonal puffin visitors. the island is home to the largest nesting cormorant population in the UK, with guillemots, razorbills and kittiwakes also frequent visitors. Alongside the seabirds, a large colony of seals can often be found basking on the beach or bobbing around in the sea. And if you are very lucky you may even see porpoise or dolphin, although these are a much rarer sight.
All our skippers are well trained and practiced in manoeuvring our RIBs to ensure they maintain a respectful distance so as not to disturb the seabirds and wildlife, whilst maximizing your viewing potential. If you would like to bring a pair of binoculars with you, please make sure they can be safely secured whilst the RIB is moving.
During this tour you will also see the impressive houses on Millionaire's Row and Garth Pier. You will discover the gruesome history of Gallows Point and be greeted by the colourful houses of Beaumaris. Like our other tours, your Skipper will finish the trip with some exhilarating twists and turns.
All in all, the perfect trip!
Please be aware we cannot guarantee you will see any wildlife on our trips.
Award winning
We are a highly praised experience, holding multiple business, tourism and environmental awards. We have resided in the Trip Advisor hall of Fame since 2014 and have received Certificates of Excellence every year since 2012. Check out our Facebook and TripAdvisor pages to see the wonderful experience many thousand people applaud us for. We hold the UKs only Blue Flag Award as a Sustainable Boat Tour Operator.
It's no coincidence that RibRide is our name and also what we do -we created the genre!